Use code BUYNOW in checkout to get 5% off!
Perfect-fit, custom keyboard stickers that make typing a breeze.
Keyboards are made for masses. Keyshorts are made exactly for you.

Cover existing symbols

or

add more languages

and keep the backlight. You're in the right place to

decorate your keyboard

while preventing it from getting worn off. And yes, Keyshorts

will fit your keyboard

and are easy to apply.
Build your custom set
All languages, colors, sizes + 20 more design features possible
Lost in between the keys?
95% of customers bought these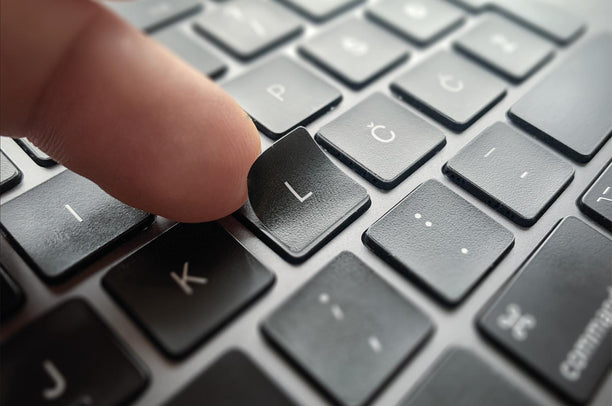 Made to
cover & replace
symbols on each key. Perfectly. Designed exactly for your Mac, PC, Laptop, or external keyboard.
Pick your brand + language
. It's that simple.
Buy Black Keyboard Stickers
Will fit your keyboard
Available in your language
Anti-glare surface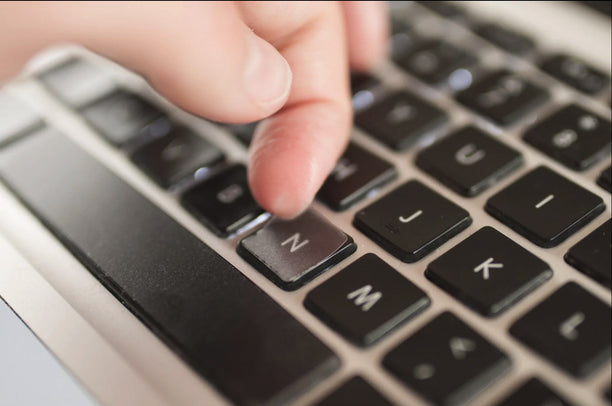 Thinnest possible,
to protect
against wear & tear without changing the look. Made exactly for your keyboard to serve its entire livetime. Once you take them off, your keyboard looks brand new.
Buy Transparent Keyboard Stickers
Will fit your keyboard
100% backlight compatible
Anti-glare surface
Language and Multilanguage Keyboard Stickers
Finally! Type confidently in one AS-MANY-AS-YOU-WANT languages.
Pick the fit & device, languages (we support all layouts), add colors.
Buy language keyboard stickers
In the next step you will see the language choice
This product is recommended by professional translators
Transparent and fully opaque backgrounds available
Want your keyboard to be more like you?
Check out these 200+ modern designs and get inspired! Our customers proved that decorative keyboard stickers make them smile each time they start typing. Fancy trying that?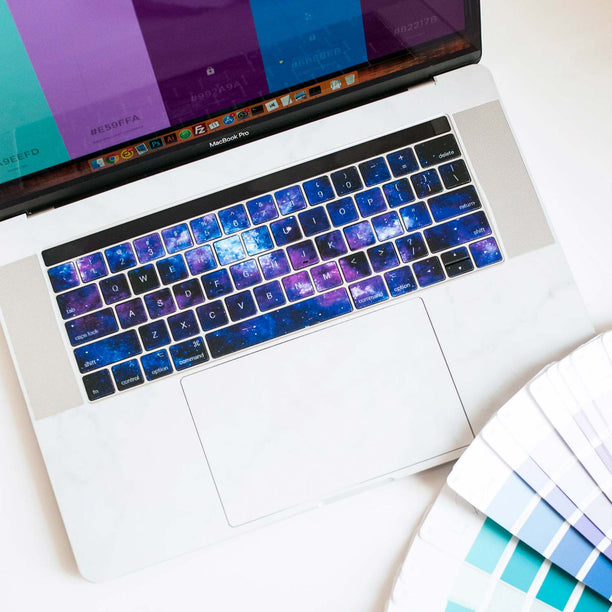 Always made to order exactly for your MacBook Air, MacBook Pro, or other Apple model. Available in any language configuration. Even if you ordered your Mac abroad and need a different layout, we're here to fix that!
Shop Mac keyboard stickers
Will fit your Mac perfectly & entirely
Cutouts made where necessary, like CapsLock LED
Just pick your Mac model name/number
Ready exactly for you, but you already know that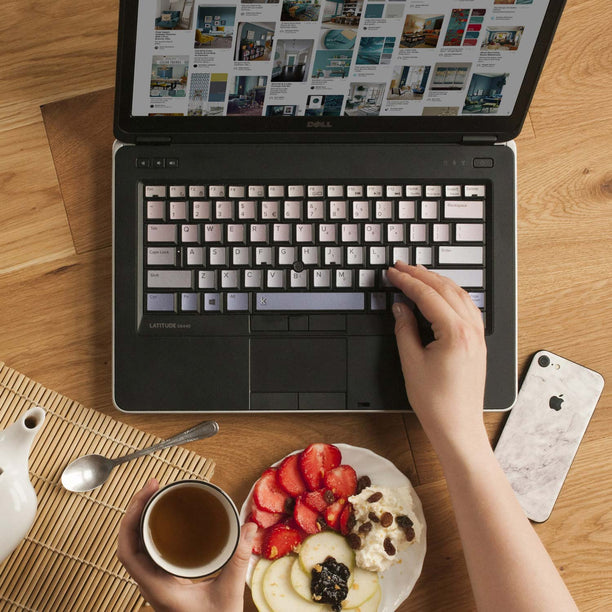 Laptops are usually boring-looking, but yours doesn't have to. Can't believe it's possible to adjust the size perfectly to your laptop model? Trust us, we've successfully transformed thousands of keyboards worldwide. ASUS, Dell, HP, Lenovo, MSI and more.
Shop all-brand laptop keyboard stickers
Will fit your PC perfectly & entirely
Cutouts made where necessary, like CapsLock LED
Your laptop model name/photo is required
Ready exactly for you, but you already know that
How to fix faded keyboard keys?
You don't have to get rid of your keyboard once the letters start to wear out. Get replacement keyboard stickers with protective coating in the perfectly matched size for your device. These stickers will never fade.
Get Replacement Keyboard Stickers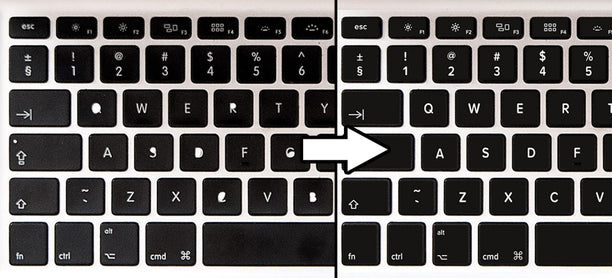 Specialized keyboard stickers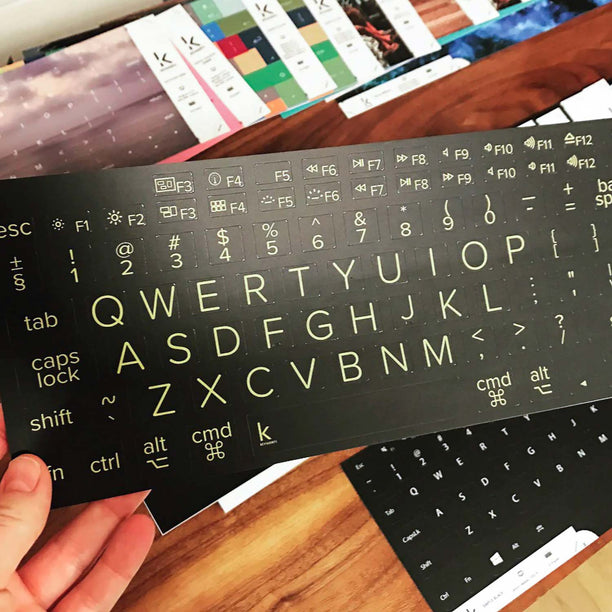 Made to order. For any laptop or keyboard, any language. No more illegible letters.
Shop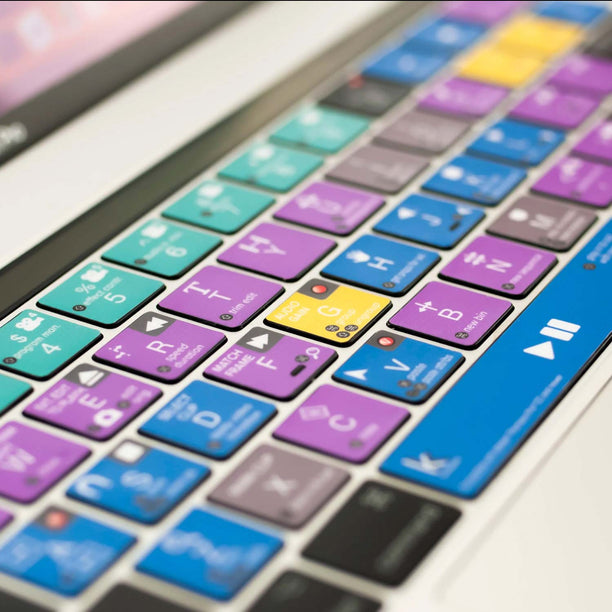 Made to order. For any laptop or keyboard. Improve work speed by up to 70%.
Shop
Keyshorts for business
We helped many corporations and small businesses reduce IT equipment costs and boost productivity.
Learn how we can help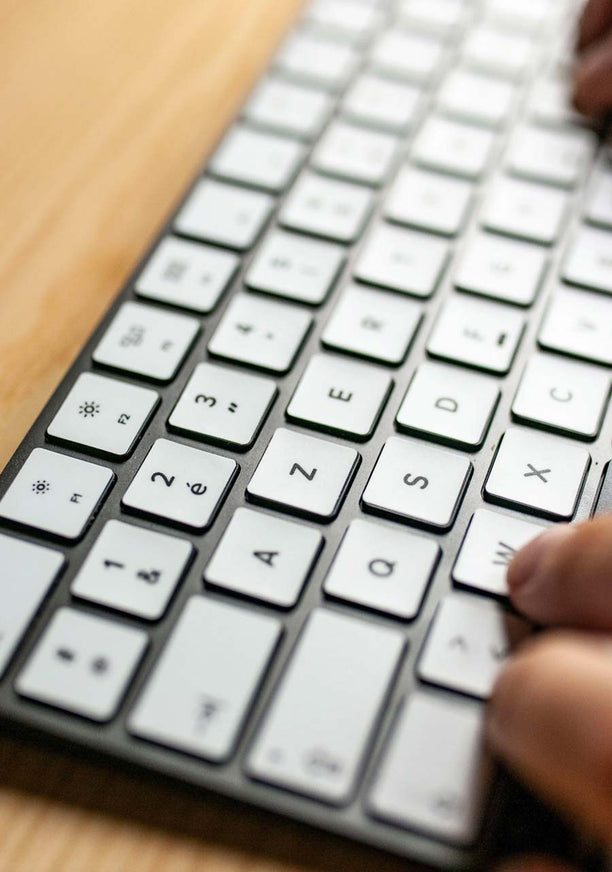 Real people behind Keyshorts
Ania is sales and marketing specialist, but she's also passionate about interior design and photography. She shot all our product photos. She's also behind our famously great customer service and designed many of our products. By education, a master of management with a specialization of public relations.
Sebastian is a multi-discipline man. He's into graphic design and web development since the dark ages of internet. In 2009 he created Adobe online courses and wrote a book about Photoshop. Currently, he is mainly responsible for design and production. Has a master's degree in landscape architecture.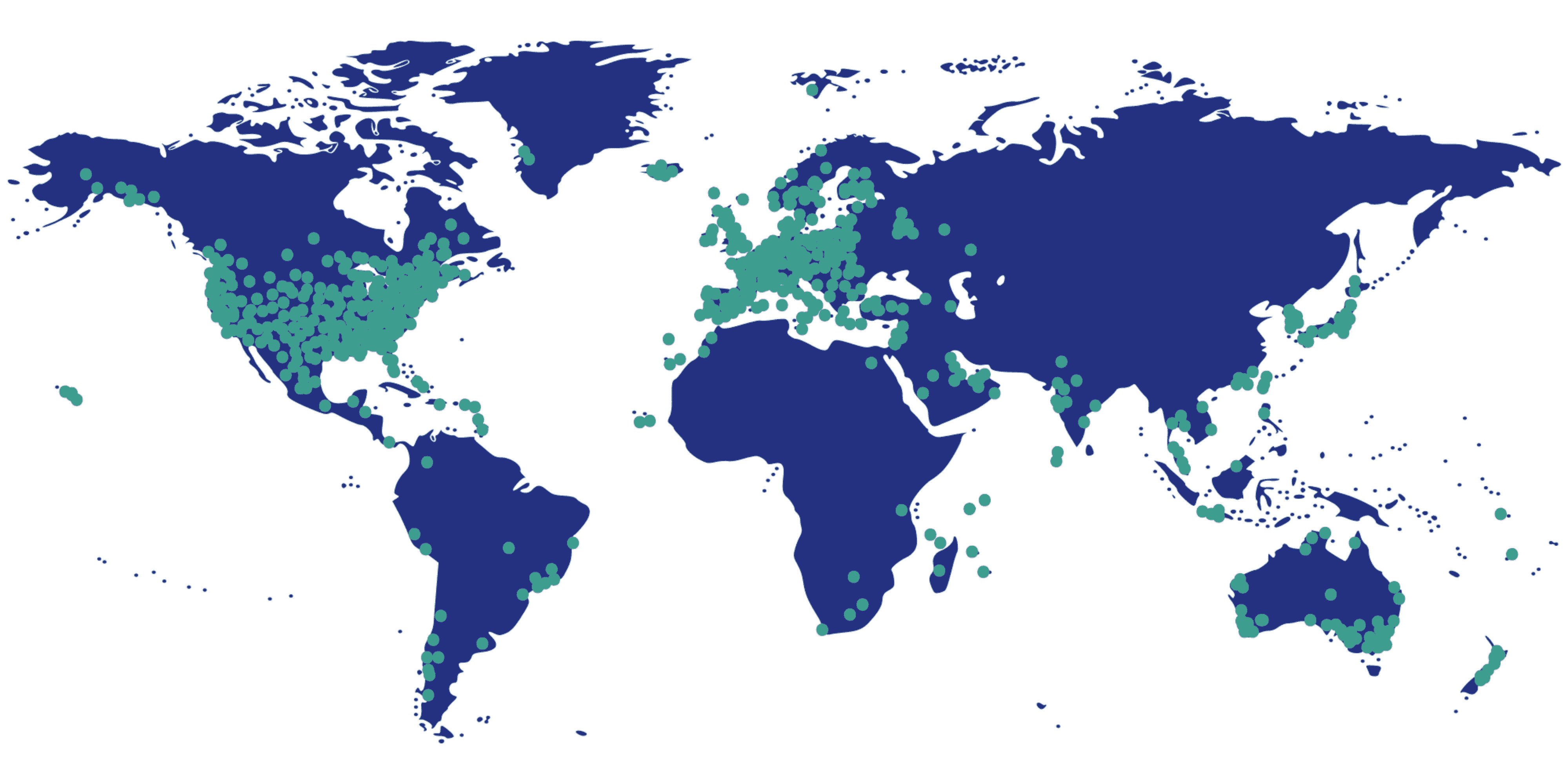 We make people happy all over the world!
"I ordered these decals to cover the worn-off letters on my Mac keyboard. I ended up putting them on all the keys so it would uniform. The decals were easy to apply and I had no difficulty getting used to the feel. The decals saved me from having to buy a new $100 keyboard. Thank you!"

- Janine from United States
"I got a work Mac with a German keyboard and was struggling to do all my shortcuts as well as finding the symbols. These stickers truly saved my working life, (...) the stickers are mat and not glossy which is actually WAY better cause they don't get finger prints on them and always look clean compared to the actual Mac keys. I 100% recommend them!"

- Maria from Germany
"I bought quite a special keyboard not fitting any regular stickers but they went extra mile to look in details at it and make highly tailored stickers to match it exactly. Communication was absolutely great and productive so I can really recommend it. Well done!"

- Tomaz from Slovenia
"Some time ago I bought a laptop on sale, the only downside being it having a spanish keyboard; since I wanted a US keyboard instead, I bought a set of generic stickers, but the result was questionable at best: they were way too small for my keyboard, and they also were quite different from the original keys. I then searched the internet for a set of stickers specifically tailored for my notebook, I found Keyshorts, and decided to give it a try. Sure, a set of stickers costed more than the generic one, but, boy, the Keyshorts one deserves every cent. The stickers replicate the original keys in every detail, including the exact size of every keycap and the font of the characters. They are also reasonably easy to apply. I strongly recommend these stickers"

- Giacomo from Italy
"Service and product quality at their very best. I can now transform my two french Azertys (Imac27 and Macbook) into Korean Qwertys at the switch of a button. The stickers quality is insane, it's clean and strong, I can still clean up my keyboards, and I use them everyday. The team is adorable. Many thanks from France!"

- Cathy from France
"Bought a new laptop and discovered that the keys were a very light grey on grey. Could not see letters, numbers etc. Ordered Black/White decals and it makes all the difference in the world. Took a few weeks to arrive, I highly recommend them. Applying them was easy!"

- Tom from United States
"Made my Samsung TabS7+ stand out. Install is super easy, it's actually relaxing. Thank you Keyshorts!"

- Jose from Australia
READ ALL KEYSHORTS REVIEWS
Numbers we are proud of
100+
languages and layouts supported.
50.000+
keyboards covered with our stickers.
400+
laptop/keyboard models we've designed stickers for.
As seen on...
"Decals that'll make your keyboard look beautiful even when it's littered with crumbs."
"Want to know the 'key' to a good-looking laptop? Then check out these awesome keyboard stickers by creative duo Anna and Sebastian."
"These insane keyboard stickers transform your boring old keys into famous paintings."
"Stunning laptop keyboard stickers inspired by iconic paintings."
Find something great for yourself, a friend, or business...